Hello ladies! It's been a while since I've seen you all! I am back with a July Favorites & August Preparations!
Recently, I have conducted a survey for the "most wanted" items in July.  While many women gave me a variety of clothing, accessories and beauty products, I managed to narrow it down to 10 items. Here are the top 10 popular items that many women have purchased and placed in their shopping carts last month.
Let's start off counting down from number 10!
10. Starbucks Refresher Beverages
During this hot weather, there's nothing like a cold drink to keep you COOL!  Throughout this long Summer,  lines at Starbucks build up with the hopes to purchase a cold beverage. Believe it or not, a lot of customers are purchasing cold beverages over hot coffee. The top requested cold drink at Starbucks is their Refresher Beverages. With flavors like Very Berry hibiscus and Cool Lime, you can't go wrong. Refreshers don't only come in a cup, but are also offered in cans and as instant beverage mixer.s On those hot days of bike riding and walks in the park, this is the perfect drink to cool you off! If you haven't yet tried this drink, I suggest you get your hands on it!
9.  Organic Hair Products
A lot of women are now turning to the environment for healthier hair. You can't go wrong with organic hair products that consist of less chemicals and more natural minerals. By using organic hair products, you are giving your hair the healthy treatment it needs. Most women are using these products because they want to be more cautious of their hair's chemical intake. Many products such as Olive Oil and Organix contain butters and oils that are healthy for you hair. If you are interested in treating damaged hair or are in need of a healthier hair regime, check out organic hair products that can be found in stores near you.
8. A Bold Lip
A bold lip makes a high statement in fashion this season! From dark purples to deep reds and bright pinks, innovative fashionistas are wearing the trend. Though this is not a specific product, it is a trend that persuades many woman to purchase bold color lipstick. Sephora is the go-to retailer when it comes to make-up of all sorts. You can catch many woman walking out with Sephora's Crush and Rouge Creme Lipstick in their bag. If you're thinking about trying this trend, go for it!  With the perfect color to match your skin tone, you can't go wrong!
7. Steve Madden Shoes
When asking women their favorite shoe brand, many of them mentioned Steve Madden. From sandals to boots to heels, Steve Madden has it all! This season open toe shoes are a must have! In this warm weather, women are wearing wedges, sandals, and ankle strap heels. If you're looking for a style that fits your personality, Steve Madden has it!
6.  Lace & Crochet Tops
Light weight tops are the perfect thing to wear when dealing with this season's back-and-forth weather. When choosing a fabric, most women gravitate towards lace and crochet. Both fabrics are weightless and comfortable, allowing you to stay sexy and trendy at the same tie. Lace and crotchet  come in different patterns, colors, and designs, which makes more fun to wear them! Every girl needs at least one lace or crotchet top in their closet. If you don't have one, that girl is YOU! 😉
5.  Bath & Body Works Essentials
When meeting someone, the first thing people usually sense is their smell. Every women has her signature fragrance(s) that puts on everyday, whether it be the scent of her body wash, perfume or lotion. I guarantee you will remember that person by their sense of smell. Bath & Body Works has always been my favorite spot to go to when looking for a new scented lotion or body wash. Besides their great deals, they are always coming out with a new signature fragrance. With over 50 fragrances, no smell is the same!
4.  Vibrant Color Nail Polish
The Spring trend of vibrant colors has rolled over into the new season. There's something about bright weather and  vibrant nail polish that goes hand-in-hand. Your nail polish color is usually based off your style and personality. When wearing a bright color, it's your choice and  doesn't have to match what you're wearing. All you neutral nail polish fans, it's time to step outside of the box and try a bright yellow!
3.  Maxi Skirts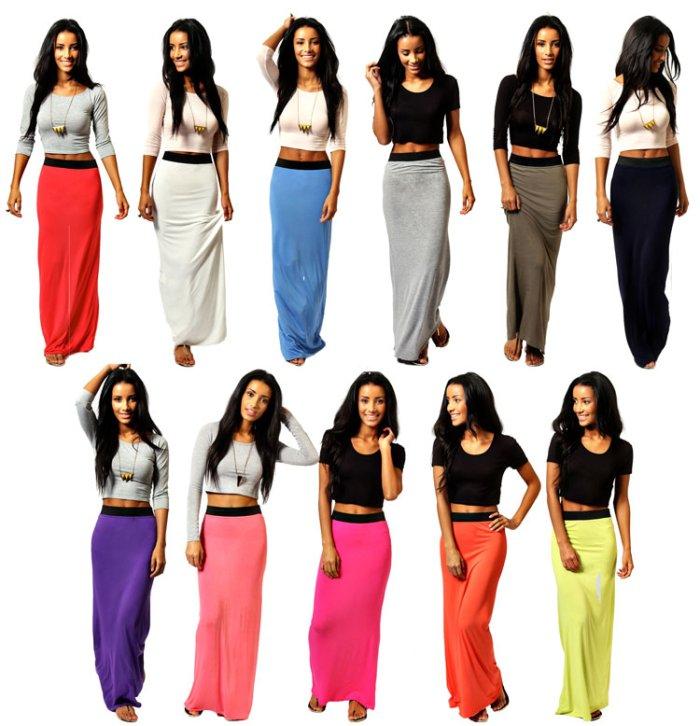 When I think of fun fashion, I think of the maxi skirt! Maxi skirts can be worn with any attire. Whether it be a crop top or a button up, your outfit always seems to fall together. When going to the beach, mall, or office, you can still dress the part with a simple maxi. With a variety of color and style choices, you can't go wrong. The maxi skirt is comfortable, stylish, and weather appropriate!
2.  iPhone 5
Name one person you can think of that doesn't have an iPhone. Hard isn't it? Well that's because it seems like every year, Apple comes out with a new iPhone. This year it is the iPhone 5! The #1 cell phone that is at high popular demand. This device is universal and has everything you could possibly need. It's like carrying your life in the palm of your hands. I'm sure #TeamiPhone can't wait to see what Apple comes up with next!
And for July's #1 top favorite…can I get a drum roll please! It's is High Waist Shorts!

You, your best friend, your mom, and probably the lady up the street have a pair of these! Everyone is wearing them! I have to agree that High Waist Shorts are the most popular item not only of month, but the season. Whether ripped, distressed, dyed, or studded, these shorts are in style. High Waist Shorts can be worn with any top and shoe; they have no limits. These bottoms come in every fabric possible; cotton, lace, denim, you name it. If you don't have a pair, it's time to wake up and smell the trend. Hurry and catch it before the seasons over!
And that wraps up the top 10 July Favorites!
Here are a few tips for preparing for August!
August Preparations
1. Before going out in the sun, put on a cute hat to stay cool.
2. Never leave the house with out your shades! Don't want to get blinded by the sun!
3. Always keep an umbrella near by, because the rain never seems warn us before it falls.
4. Last but not least, always keep lip gloss or chapstick in your purse. In this dry weather, you never know when you'll need it!
 If I missed anything, feel free to share your July Favorites and August Preparations below! Thanks for reading!