Bad gal RiRi has been making some serious power moves lately, from her hot-selling make-up collaboration with MAC, her fab clothing line with River Island,  to her new reality show, Styled To Rock on BRAVO, and we're loving it all! For her new fashion soiree, Rihanna has handpicked 12 talented, unknown designers that she believes may have what it takes to win a chance at a fashion feature in Glamour Magazine, a $100,000 cash prize, and a spot on her personal design team. Every week, each designer will be challenged to create red-carpet or performance ready garments for some of the biggest powerhouses in entertainment, so that the judges can see if they truly have what it takes to rise to the top. The songstress has also chosen three mentor-judges that definitely know their stuff when it comes to fashion! Sitting pretty on the panel with Rihanna is producer / rapper Pharrell Williams, super model Erin Wasson, and Rihanna's chief stylist Mel Ottenberg, and it won't be easy to 'woo' them.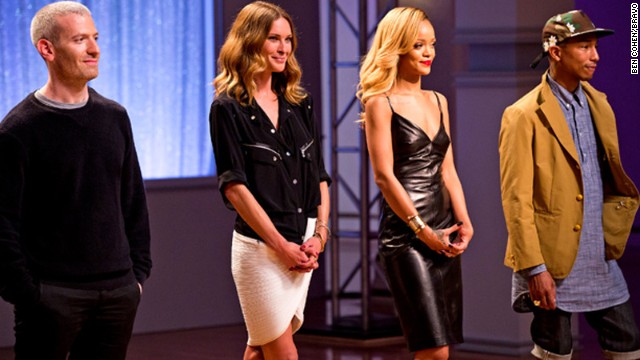 When the competition premiered last Friday night on BRAVO, after being introduced to Rihanna and the judges, the designers were immediately put to task.  As exciting as it is to be in the presence of such mega-talent, the nervous energy from these 12 designers was almost a little too much for me to take as Rihanna reviewed each of their pieces. With so much talent and passion shown through each competitors creation, it's obvious that Rihanna won't be easily persuaded. RiRi and the judges are sure to keep these 12 contestants on their toes, as they search for star quality designs that will truly stand out and push the envelope. The Nautie crew is actually really excited about this design competition. We enjoyed the first show and we're interested to see who will crack under the pressure, and who will be left standing.
In case you missed it, check out the first episode below:
You can catch "Styled To Rock" every Friday at 8pm on Bravo!
Will you be watching or are you over these competition type reality shows?